Welcome to the Official Homepage of
Harold Stewart & The Blues Hounds!
International performing & recording artists, Harold Stewart & The Blues Hounds, are based out of Columbus OH & consistently offer crowds high-intensity, upbeat, funky Blues music with a wide range of flavors.
The Blues Hounds have headlined many international events & opened for various pro-musicians overseas, as well as recording 2 CDs in Japan.
The band has an undeniablly special vibe & groove, known as:

"The Blue Sounds of the Blues Hounds!"
The Blues Hounds sound is a modern, funky, powerful, good-time, high-intensity electric Blues, with horn-line & Hammond b-3 backing, in the vein of the music created in the late-60s by Stax records & made popular by such Blues giants as Albert King, Otis Rush, Albert Collins, Freddie King, Jr. Wells, Lucky Peterson, Little Milton, & B.B. King. Jump & swing Blues tunes also fill out the repertoire from artists such as T-Bone Walker, Ray Charles, Louis Jordan, Roomful Of Blues, & Delbert McClinton.

The Blues Hounds' strongest point:

Their LIVE shows!!
The boys consistently turn out top-notch performances, so if you love HIGH-ENERGY, intense BLUES music, look no further!
Come out to see what all the buzz is about, & how FUN Blues music can & should be!
Catch the next performance of this powerhouse Blues band:

Harold Stewart & The Blues Hounds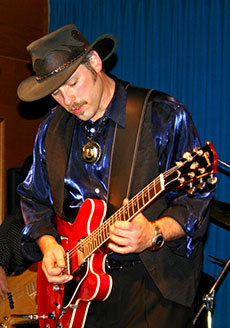 Harold shreds in Tokyo!